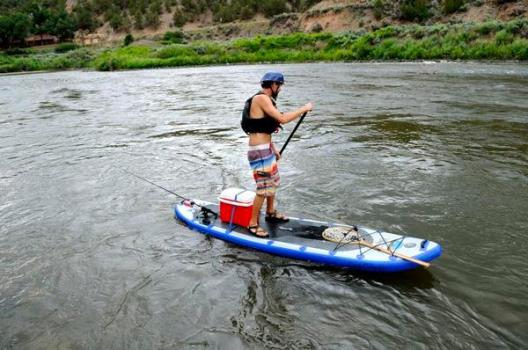 Paddle Board Fishing
If you like the idea of an active fishing experience, paddle board fishing is something you should try. Fishing paddle boards are different from fishing kayaks or canoes because they allow you to paddle from an upright position. Learn more in this section.
The ability to stand up while paddling can give you an advantage while fishing because you have a much better view into the water below. This type of fishing is perfect for anglers who want to get in some extra physical activity while scouting out their favorite species on the Backwater Flats or on freshwater lakes and rivers.

Another advantage of fishing from a paddle board is that a paddle board can easily be transported from one fishing spot to another fishing spot. Most Fishing Paddle models are between 9 to 13 feet, so they can be secured onto a roof rack, strapped down to the bed of a pickup truck, or placed in the back of a van. If you decide to go SUP fishing, you can load up your paddle board and be on the way to your favorite fishing spot in no time.
GET STARTED SUP FISHING
If you are ready to try fishing from a SUP, you may want to rent a paddle board from a local outfitter in your area to see if paddle board fishing is a good fit for you. Don't worry about bringing along much in the way of tackle or gear because you can get started with the basics. In fact, one of the biggest benefits of SUP fishing is that you can start with just a few simple pieces of gear.
When selecting a paddle board for fishing, keep in mind that a wider paddle board will give you more stability while a narrower board will cut through the water faster. A wider paddle board is generally a better choice for beginners. If you sign up for a paddle boarding lesson, you can learn how to select the right paddle board for fishing and get some experience before adding extra gear and fish into the equation.
Check the weather and water conditions. Wind, current, and tides should all be considered when planning out your fishing route. Because paddle boards are lightweight, they are easily affected by the wind and current.
Make sure you have the required paddle board safety gear. This includes the proper Type of PFD, a safety whistle, and a cell phone or hand-held marine radio (stored in a dry bag).
Bring along only the SUP fishing gear basics since you won't have much storage space on a paddle board. These items include a paddle, paddle board leash, fishing rod, tackle bag, dry bag, rod holder, bungee cords, and small cooler for storage. Bungee cords can be quite helpful for securing your fishing rod and tackle. You may also want to consider bringing along a paddle board anchor, in case you find a particularly good fishing spot.
Keep your first trip short. This is one of the most important paddle board fishing tips to remember. It's easy to get excited about a fishing trip or over-estimate your ability to cover a lot of water, but conditions can change and it can be easy to misjudge distances from one place to the next while on the water.
Now that you know more about paddle board fishing, buy your fishing license online, check the fishing regulations for your state, and find a good spot to try it out!