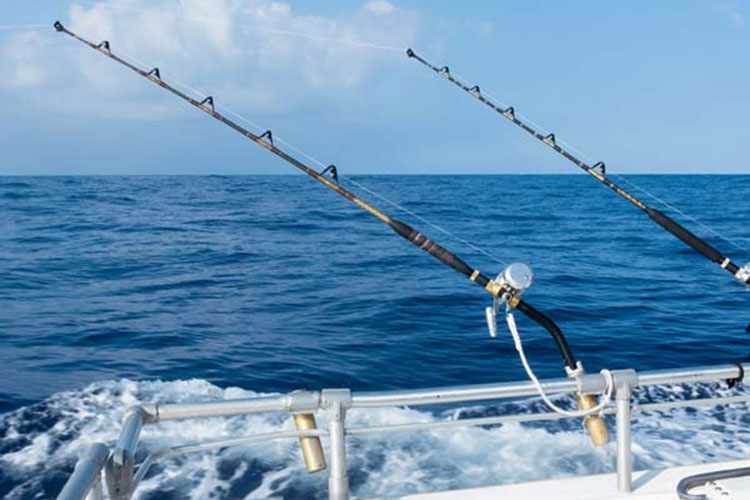 Salt Water Fishing
Due to the different types of saltwater fish and number of saltwater fishing tips and techniques that can be applied, learning all the tricks when it comes to how to saltwater fish can be a challenge for both seasoned anglers and beginner saltwater fishing students.
SALTWATER FISHING TIPS
Beginners learning how to saltwater fish often choose to target species such as spotted seatrout and redfish either from shore or a shallow water flats boat, while experienced big game anglers sporting some of the best saltwater fishing rods on the market often prefer to spend time deep sea fishing for offshore species like marlin or tuna from a large sport fishing boat.
Just remember, the types of fishing tackle and gear that is used for Saltwater Fishing differs considerably based on the species and the specific fishing techniques that are applied. Other saltwater fishing tips to keep in mind:

Make sure to have a valid saltwater fishing license. You can buy or renew your saltwater fishing license either online or by phone.
Check a local tide chart when planning your inshore saltwater fishing trip. One of the most important inshore fishing tips is to plan your trips based on tidal movement.
Choose the right spinning rod and reel combo. Start out with a 7-foot, medium weight spinning rod and reel combo that's rated for 10 to 20-pound test line.
Use live or natural baits or your favorite fishing lures. Natural baits, such as shrimp or baitfish, offer you the best opportunity for consistent action.
Make sure to keep your live bait in a covered bucket or in a live well.
Consider fishing from a public pier to start. Public piers are great places to gain experience with inshore saltwater fishing gear, rigging baits, and landing fish.
When practicing catch and release, keep your catch out of the water only as long as you can hold your own breath.
Learning how to saltwater fish is as much about the adventure as it is about the fish. Many of the sport fish species can be big and mean, and the water can be big and bad. From shallow saltwater flats to deep ocean fishing, saltwater anglers chase everything from dainty speckled trout to massive blue marlin in some of the most intense and inspirational surroundings on earth.
Hopefully, these saltwater fishing tips will help on your next angling adventure. If you have never tried it, start applying these Saltwater Fishing Basics from a pier with basic tackle and a handful of saltwater rigs. As you continue to hone your skills, try more advanced fishing with the help of additional saltwater fishing tips and tricks. Soon you could be an avid angler who spends endless time offshore catching prized sportfish.
Whether you live along the 10,000 miles of U.S. coastline or are visiting the ocean for the weekend, there are plenty of opportunities to wet a line. And plenty of fish in the sea.
Learn more about Saltwater Fishing Gear and Salt Water Tackle and Knots in these sections.