Deep Sea Fishing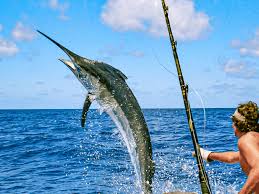 If you're looking for a real Hemingway-esque adventure, you should look no further than deep sea fishing. Waves in all directions, flocking seagulls on the water, and that tantalizing sound as the reel's drag starts to scream… There simply is nothing quite like it.
What is deep sea fishing?
Deep sea fishing is all about being out in the open sea, away from the shore. Roughly speaking, you'll be in waters at least 100 ft deep, chasing after the bigger fish that live and migrate offshore. Usually synonymous with sport fishing or big game fishing, this is the fishing style you need if you're hoping to hook a real trophy.
Deep sea fishing trips come in two forms: party boat fishing and charter fishing. Join a party (or 'head') boat, and you will be sharing your spot with a group of other people. While it's often the cheaper option for individuals or small groups, this style usually doesn't give much space for customization. For larger groups, or those looking for a more personalized trip, private deep sea fishing charters let you have the expertise, gear, and boat all to yourself.
Whichever option you go for, there's one thing you can expect on most deep sea fishing trips: variety. Depending on where in the world you are, these trips could take you fishing for anything from Marlin to Mackerel, and everything in between.
Deep sea fishing equipment
On a typical deep sea charter, you will be fishing from a fairly large boat (anything upwards of 30' is normal). On board, you'll usually find a variety of rods and reels that are suitable for the various fish you could be catching.
Deep sea fishing reels are usually much bigger than the ones you'd use inshore or in freshwater - the fish you will be targeting are not only big, they are also strong, and fast, too.
You'll find that some boats are fitted with outriggers for trolling, and they may have electric reels for 'deep dropping' - bottom fishing for deep sea fish such as Tilefish and maybe even Swordfish.
Top deep sea fishing hotspots
Florida
Both the Gulf and the Atlantic coasts. This is the birthplace of sportfishing, and the number of fishing spots are hard to believe. Don't miss the Keys, Miami, Cape, Canaveral, Daytona Beach, and Destin - to name a few.
Medxico
The tropical waters around Mexico are home to Billfish, Yellowfin Tuna, Wahoo, and much more. Don't miss Cabo San Lucas, Cancun and Puerto Vallarta.
Hawaii
Arguably the birthplace of grander Marlin fishing, there is little you can't catch from these islands. Whether you're fishing from Kona, Oahu or Maui, you'll be in for a treat.
Queensland, Australia
The area around the Great Barrier Reef, especially around Cairns and Port Douglas, is legendary when it comes to sport fishing. If you're planning on going deep sea fishing here, expect to see big Black Marlin on the cards.
Prince Edward Island, Canada
The ice-cold waters off the east coast of Canada are home to one of the world's healthiest populations of giant Bluefin Tuna. Catch one if you dare!
What to bring on a deep sea fishing charter
Sea sickness medication
Unless you have very good sea legs, be sure to dose up before your trip. Even half day fishing trips will take you away from the coastline, and longer trips can get very bumpy if you run into less than perfect weather.
Layers
Most offshore fishing trips will start early in the morning, so the weather will often heat up as the day progresses.
Sun protection
Out at sea, you're very exposed to sunburn. Shield yourself from the rays with a hat, sunglasses, and sunscreen (but not the sprayable kind - this can cause problems for boat owners).