Ice Fishing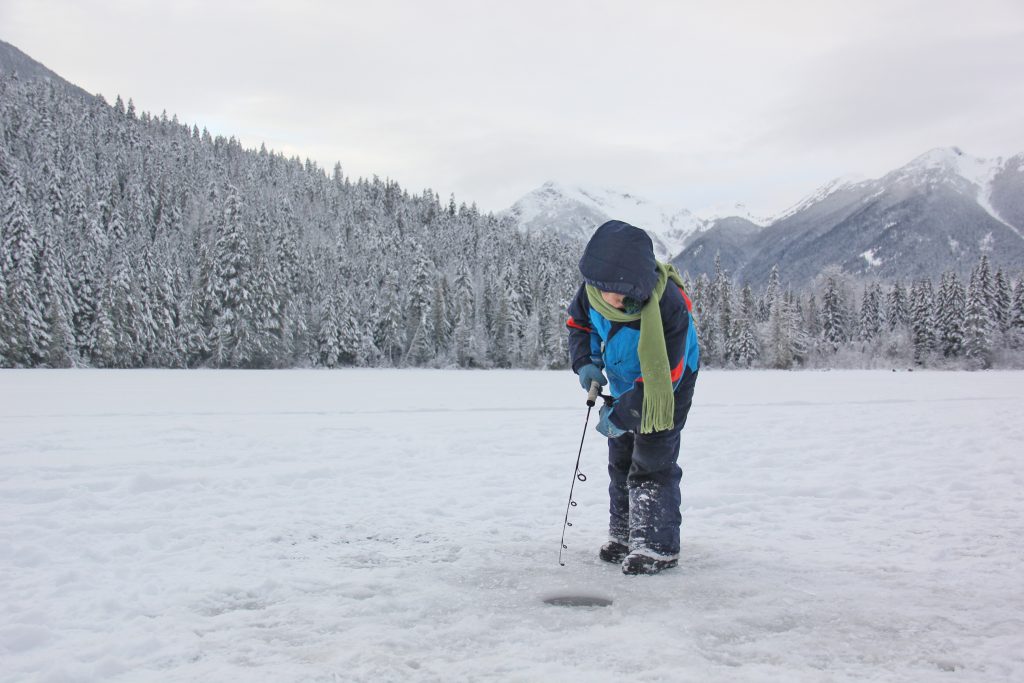 Want to keep fishing but your waterways freeze in the winter? Try ice fishing, and you'll have the angling fix you need, right on your doorstep. Bring your friends, and taking a guided ice fishing trip can be one of the most enjoyable things you can do on a winter's day.
What is Ice Fishing?
Essentially, ice fishing is pretty straightforward. Following the logic that fish don't simply disappear when their home lakes freeze over, there's no real reason why a thick layer of ice should get between you and them. Well, ok, it will get between you, but any determined ice angler knows that there's always a way through.
Believe it or not, fishing a lake that has frozen over follows almost the same logic as fishing it during the summer. The fish are there, and will be as tempted as ever by whatever tasty-looking goods you dangle into the water for them. Simply bring your friends, somewhere warm to sit (portable shelters are the norm) and don't forget an ice-breaker!
The first thing to do is to make sure that you're not on thin ice. Sounds obvious, right? This is where local knowledge and an experienced guide come in - driving a 4x4 across the lake, setting up an ice shanty, and drilling a hole are not things you want to be doing if the ice is less than four inches thick or in a less than stable area.
Found a spot? Now, you'll want to get out your ice auger (like a drill) and make your hole. Eight inches wide should be enough. Then, there are three main options:
Sit and wait with a lightweight rod, using lures or bait to attract a passing lake monster.
Take a step back and set up a 'tip-up'. Think of this as a mini see-saw, with a line and hook on one end and a flag on the other. When a fish bites, it will bring the end with the line downwards, raising the flag ready for you to reel it in.
Get down in on the action with an ice fishing spear. Probably the oldest ice fishing technique, this involves lying on the ice looking down at the fishing hole, spear raised, ready to strike. This technique isn't for the faint-hearted!
Ice Fishing Equipment
Ice fishing essentials include:
Ice fishing gear. Whether you're using a conventional rod and reel setup, tip-ups, or a spear, you'll be going nowhere without it.
An auger. This is like an ice drill, and an absolutely necessary part of getting to the fish.
An ice shanty. You might call it an ice hut, shack, fish house, or bob house. Whichever name you give it, it's an important part of keeping warm and cozy while waiting for the fish to bite.
A flasher. This is like a fish finder that's made especially for ice fishing. It's the best way of locating schools under the ice.
A skimmer. Similar to a huge spoon with holes in it, this allows you to skim away the Icey slush that forms at the top of your fishing hole.
Difficulty
Easy
Depending on the specific technique you go for, ice fishing can be one of the easiest ways of catching a fish - as long as you're patient. Tip-ups are the simplest option, while spearfishing is much more difficult.
Top Ice Fishing Hotspots
You can go ice fishing anywhere it is cold enough for lakes to freeze over well enough for you to stand on them and safely drill a hole. Ontario's Lake Simcoe is famous as one of the best places to ice fish, and its populations of Lake Trout, Pike, and big Perch attract anglers from far and wide. Lake of the Woods has excellent ice fishing opportunities from December through March, while Wisconsin's largest lake, Winnebago, is popular with anglers from across the country.
What not to forget on an ice fishing trip
It's obvious, but WARM clothes are a must. And bring some spares, just in case anything gets wet.
A thermos filled with a hot beverage. Great for keeping the cold at bay.
An extra pair of gloves (or two). The first pair will get wet.
A fishing license. Consult the state's fish and game office for up to date license requirements.