Drift Fishing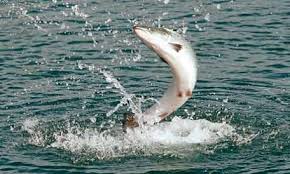 Drift fishing is a method for all waters, from mountain lakes and streams to the deep sea offshore. In its simplest form, drifting requires little more than a boat and basic tackle. The idea is to let the current carry you, allowing your bait to pass effortlessly through the fishing grounds. When done right, this technique could bring you anything from Catfish and Steelhead to Sailfish.
What is Drift Fishing?
Traditionally, anglers drift fish by allowing the wind and current to move the boat across the water while dragging baits or lures. This method is an effective way to fish in waters where you're still learning to locate the fish.
You can drift bait close to the bottom or closer to the surface by suspending it beneath a bobber or popping cork. When targeting fish along the bottom, the main difference between drift fishing and standard bottom fishing is motion. Drift fishing often involves the use of a "drift sock," a parachute harnessed to the boat which expands in the water and creates "drag" so that you can keep the boat stable at your desired speed.
Over time, anglers have tweaked this basic approach to drift fishing to adapt to different conditions on the water. When the current is too strong or too weak, "controlled drifting" allows you to adjust the speed of the boat using a trolling motor or kicker motor. Some anglers use the term "controlled drifting" when they keep the boat in motion using a trolling motor and hold the rod in their hands while bouncing the bait along the bottom. Yet another interpretation of this term involves trolling (or "strolling"), in which case the rods are placed in holders and a trolling motor is used to keep the boat in motion while pulling the bait along behind it.
Where to Go Drift Fishing
The variety of fish that you can catch while relying on this simple technique is astounding. Once you know what bait works best, you can drift fish virtually anywhere, for just about any fish. Species you can target by drift fishing vary depending on where you cast a line:
Lake Fishing
If it swims in a lake, odds are you might hook into it while drift fishing. One of the top targeted drift fishing species is Catfish (of all kinds). Trout, Walleye, Northern Pike, and Smallmouth Bass are a few of the other high-profile trophy fish you can catch using this method.
River Fishing
Drift fishing in various rivers will also produce Catfish (mainly Blue and Channel Catfish). In the Pacific Northwest, this technique is a sure-fire way to catch Salmon, Steelhead, and Sturgeon.
Inshore Fishing
Drifting has its place in saltwater fishing, too! You can catch a wide variety of fish swimming in shallow inshore waters this way, from Redfish, Speckled Trout, Halibut, and Flounder, to Striped Bass, Sharks, and Rays.
Nearshore and Offshore Fishing
In deeper waters, anglers primarily use this technique over wrecks and reefs. Drifting along the bottom produces Snapper, Grouper, and other deep-dwelling fish, while drifting mid-depth and on the surface will bring you Mackerel, Bonito, and other pelagic. Offshore, this method can even catch Mahi Mahi, Tuna, Wahoo, and Sailfish on occasion.
This approach to nearshore and offshore fishing is especially popular in southern U.S. states. Party boats, also called "drift boats" in some areas, specialize in this technique because it's a great way to get lots of people fishing at once without tangling lines–especially on shared charters. A drift fishing trip may be just your speed if you're looking for a laid-back experience in Fort Lauderdale, St. Pete Beach, and other vacation hot spots in the south.
Drift Fishing Tackle
No matter where you find yourself casting a line, a drift sock is likely to come in handy. This is the most common piece of equipment anglers use when drift fishing (aside from the boat and tackle, of course). When fishing in freshwater or inshore, a trolling motor or kicker motor also comes in handy.
Rod, reel, and bait selection vary depending on where you fish and your target species. In rivers, a long light action rod and spinning reel are recommended. Beginners can make good use of an 8.5-9' rod with 8-15 lb test line. You can rely on a basic roe rig to catch Steelhead and most Salmon species. If you're targeting Sturgeon or trophy Catfish, be sure to use a rod with a strong backbone. Sturgeon can't resist stinky bait like crawfish, shad, or Salmon eggs and carcasses. Catfish will bite whichever bait usually works best for each species (if it's Blues that would be skipjack herring or gizzard and threadfin shad).
When drift fishing in saltwater, relatively short rods tend to work best (especially offshore). Natural bait is ideal, but drifting soft plastics, jigs, buck tails, or crankbaits can also be productive, depending on the species. Buck tails, crankbaits, and soft plastics entice Redfish and Speckled Trout, while many bottom fish are privy to jigs.
No matter where you find yourself fishing next, drifting is a great way to get acquainted with the local waters. From lifelong fishermen to beginners, this method is known to put people on fish! Cast a line, sit back and relax, and let the current bring you your next catch.